Αν και δεν δίστασα να βγάλω τα ανοιξιάτικα λευκά και pastel μου ρούχα, ο καιρός άρχισε να μου τα χαλάει! Κρύο πάλι ε; Το σίγουρο όμως είναι ότι δεν πρέπει να χάσουμε την ανοιξιάτικη διάθεση στο ντύσιμο μας!
Θυμάστε τι σας είχα πει για την υπέροχη αέρινη ντουλάπα της AddLoft? Στο σημερινό post θα δείτε ενα ακόμη υπέροχο outfit της αγαπημένης μου AddLoft.
Οι παντελονες κολακεύουν κάθε κοπέλα! Είναι extra fashionable ακόμα και αν τις συνδυάσεις με το πιο classic white t-shirt! Άρα καταλαβαίνεις ότι αν δεν έχεις είδη μια παντελονα στην ντουλάπα σου, ήρθε η ώρα να την αποκτήσεις! (ΕΔΩ)
Στο σημερινό post φόρεσα την νέα μου αγαπημένη γκρι AddLoft παντελονα με ενα αέρινο λευκό girly top! Επέλεξα κλασικές λευκές γόβες με χοντρό τακούνι. Το ντύσιμο αυτό μπορεί να συνδυαστεί και με flat αθλητικά παπούτσια κάνοντας το πιο πρωινό και casual.
Ελπίζω να σας άρεσε! Θα τα πούμε σύντομα!
xx
Ellwears
Total Outfit: AddLoft
Γυαλιά: DIOR by ORAMAOPTICS
Φωτογράφος: Ελένη Παυλίδη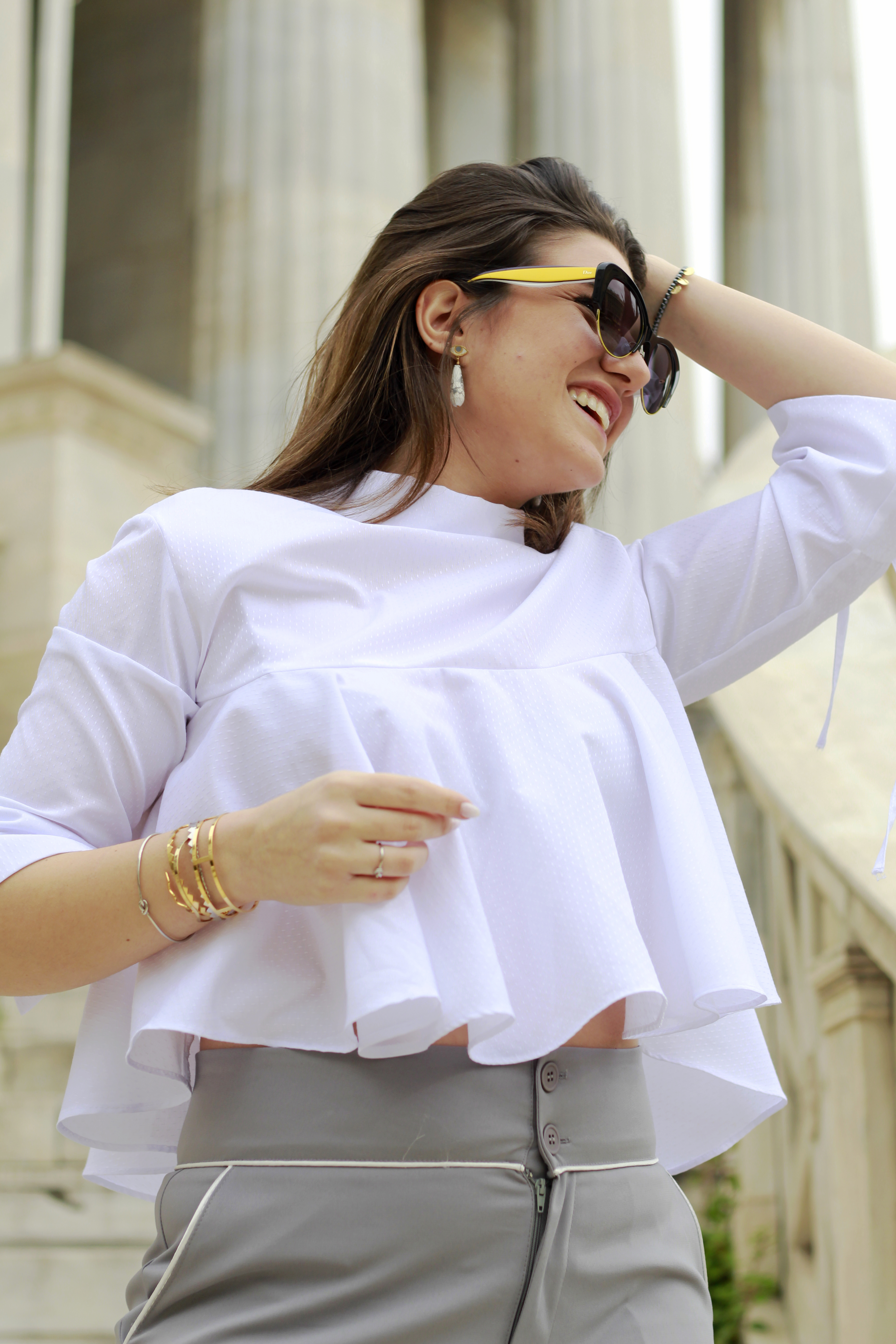 Although I did not hesitate to take off my white and pastel spring clothes, the weather began to spoil me! It's a little bit cold again huh? The truth is that we should not miss the spring mood in our dressing!
Do you remember what I told you about the wonderful airy wardrobe by AddLoft ? In today's post you will see one more beautiful outfit of my favorite AddLoft.
Those special trousers flatter any girl! It's extra fashionable even if you combine it with a basic white t-shirt! As you can understand, If you don't have a trouser like this in your wardrobe, it's time to acquire it! (Here)
In today's post I am wearing my new favorite gray AddLoft trouser with an airy white girly top! I chose to wear it with a pair of classic white heels. The outfit can be combined with a pair of flat sneakers for a casual occasion .
Hope you liked it! See you soon!
xx
Ellwears
Total Outfit: AddLoft
Glasses: DIOR by ORAMAOPTICS
Photographer : Eleni Pavlidi