Γειαα σας!
Σας εχω πεί ποσο αγαπω τις κάπες το χειμώνα ; ΠΟΛΥ! Ειναι ευκολοφόρετες, φοριούνται πρωί αλλα και βραδυ και μπορείς να τις προσαρμόσεις σε ενα casual, αθλητικό ή και πιο επίσημο outfit. Κάθε χρόνο αγοράζω μια καινούρια κάπα. Φέτος το must χρώμα για τα παλτό ειναι το γκρι. Για αυτο έψαξα και βρηκα την πιο stylish γκρι κάπα By Virginia. Ειναι σε αρκετά φαρδιά γραμμή, κατι που βολεύει αρκετά καθώς μπορώ να τη φορέσω με χοντρά ζεστά πουλόβερ! Η αγαπημένη μου λεπτομέρεια όμως που με έκανε να την επιλέξω είναι ο γιακάς-κασκόλ! Κλείνει σαν ζιβάγκο και μένει σταθερή χωρίς να ανοίγει όλη την ωρα.
Στο σημερινό post συνδύασα την By Virginia κάπα μου με ενα υπέροχο πουκάμισο γεμάτο κακτακια και ενα γκρί salt and pepper jean . Ολα απο το αγαπημένο μου La Poupee. Και φυσικά, κόκκινα γυαλιά απο τη νέα σειρά της Miu-Miu απο τα ORAMAOPTICS.
Top trend για φέτος το χειμώνα ειναι το μαύρο διχτυωτο καλσόν μέσα απο τα jeans. Ακομα να το δοκιμάσεις ; Ελπιζω να σου αρεσε! Θα τα πούμε σύντομα!!! 
Ell xx
#Ellwears
Κάπα: By Virginia
Πουκάμισο: La Poupee
Jeans: Salt and pepper by La Poupee
Γυαλιά: Miu-Miu by ORAMAOPTICS
Μποτάκια: MIGATO
Photographer: BonaShots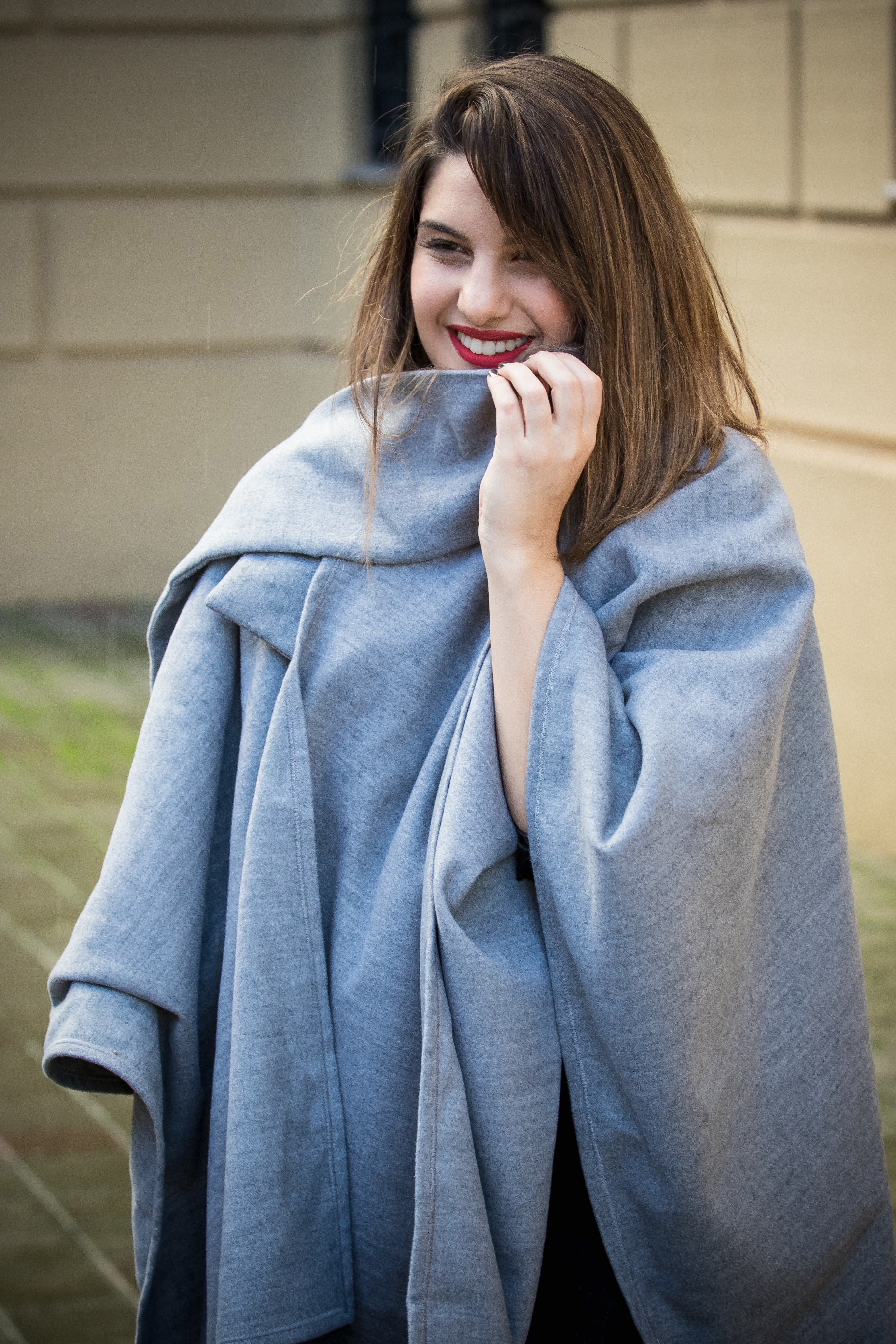 Heyy there!
Have I told you how much I love the capes on winter? I LOVE THEM! They are easywearing, perfect to be worn during morning and evening and you can tweak it in a casual, sporty or more formal outfit. Every year I am buying a new cape. This year the must color for a coat is gray. That's why I searched and  found the most stylish gray cape By Virginia. It is a pretty wide line, something that is comfy enough, cause I can wear it with warm sweater! My favorite detail that made me choose it, is the collar-scarf! Closes just like a turtleneck and remains stable without unbuckling all the time.
In today's post I combined  my cape with a beautiful shirt full of cactus and a gray salt and pepper pair of  jeans. Everything by my favorite La Poupee store. And of course, red glasses from the new Miu-Miu collection by ORAMAOPTICS.
Top trend for this winter is the black tights  through the jeans. are you ready to try it? Hope you liked it! See you soon!!!
Ell xx