I really love the oversized look,  but I don't want to look like I'm drowning in my clothes! I also adore the grey color in my outfits! So, today I found the perfect coat from my favourite HYPE brand! It looks like a knit jacket with two deferent shades of grey. The leather details make it unique. Love it! I worn it with a classic black jumpsuit and a turtlneck top.
For details, I choose a bracelet by The Rubz in pastel pink color. Don't you like my new I-phone case? As you can see, it can be worn like a bag! Classic club master sunnies by ORAMAOPTICS & (It's a new trend) grey velvet boots. That's all for today! See you soon..
xoxo
#Ellwears 
Grey Coat: HYPE
Bracelet & I-phone case: The Rubz
Sunglasses: RayBan by ORAMAOPTICS
Boots: ZARA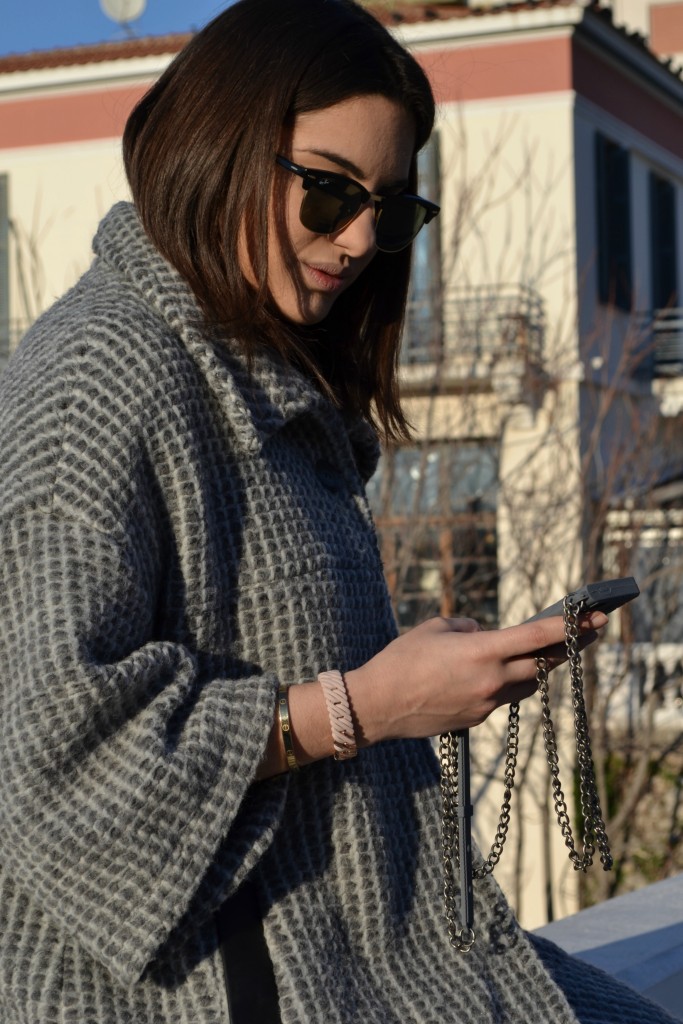 Τρελαίνομαι για τα oversized ντυσίματα! Επίσης, λατρεύω το γκρι χρώμα στο ρούχα μου! Έτσι, σήμερα βρήκα το τέλειο παλτό από τα αγαπημένα HYPE! Μοιάζει με ένα πλεκτό σακάκι με δύο διαφορετικές αποχρώσεις του γκρι. Οι δερμάτινες λεπτομέρειες το κάνουν μοναδικό. Το λατρεύω! Το συνδύασα με ένα κλασικό μαύρο jumpsuit με ζιβάγκο.
Για λεπτομέρειες, επέλεξα ένα βραχιόλι από το The Rubz σε παστέλ ροζ χρώμα. Σας αρέσει η νέα  μου θήκη i-phone; Όπως μπορείτε να δείτε, μπορεί να φορεθεί και σαν τσάντα! Κλασικά club muster γυαλιά ηλίου από το ORAMAOPTICS και γκρι βελούδινα μποτάκια (Είναι μια νέα τάση). Αυτό είναι όλο για σήμερα! Τα λέμε σύντομα!!!
xoxo
#Ellwears 
Γκρι παλτό : HYPE
Βραχιόλι & θήκη I-phone: The Rubz
Γυαλιά: RayBan by ORAMAOPTICS
Βελούδινα Μποτάκια : ZARA