Το καλοκαίρι το σατέν έχει πρωταγωνιστικό ρόλο! Υπέροχο σε απαλά χρώματα όπως το ροζ και το λευκό αλλά και σε σκούρα σε μαύρο και μπλε! Οι περισσότερες δεν το τολμάτε γιατί θεωρείτε ότι δίνει μια αίσθηση νυχτικου! Για εμένα το σατέν είναι ενα ύφασμα αέρινο και πολυ άνετο που προσφέρει μια φρεσκάδα και δείχνει το πιο απλό κομματι σαν ενα πολυ ακριβό και πολυτελές ρούχο.
Η σημερινή μου επιλογή είναι ενα σατέν ροζ μακρυ φόρεμα από τα αγαπημένα Angry Sally. Τόσο φαρδυ όσο χρειάζεται για να μην κολάει πουθενά και να κολακεύει όπως πρέπει!
Είναι τέλειο για city looks με μια μαύρη ζώνη και μαύρα sleepers αλλά και για ενα νησί συνδυασμένο με σανδάλια και μια λεπτή υφασμάτινη ή σχοινενια ζώνη. Θα το τολμήσεις; Βρες το τώρα στο Angry Sally.
Ελπίζω να σας αρέσει! Θα τα πούμε σύντομα!
Φωτογράφος: Ελένη Παυλίδη
Ellwears
Φόρεμα: Angry Sally
Γυαλιά: YOLO
Ζώνη: GUCCI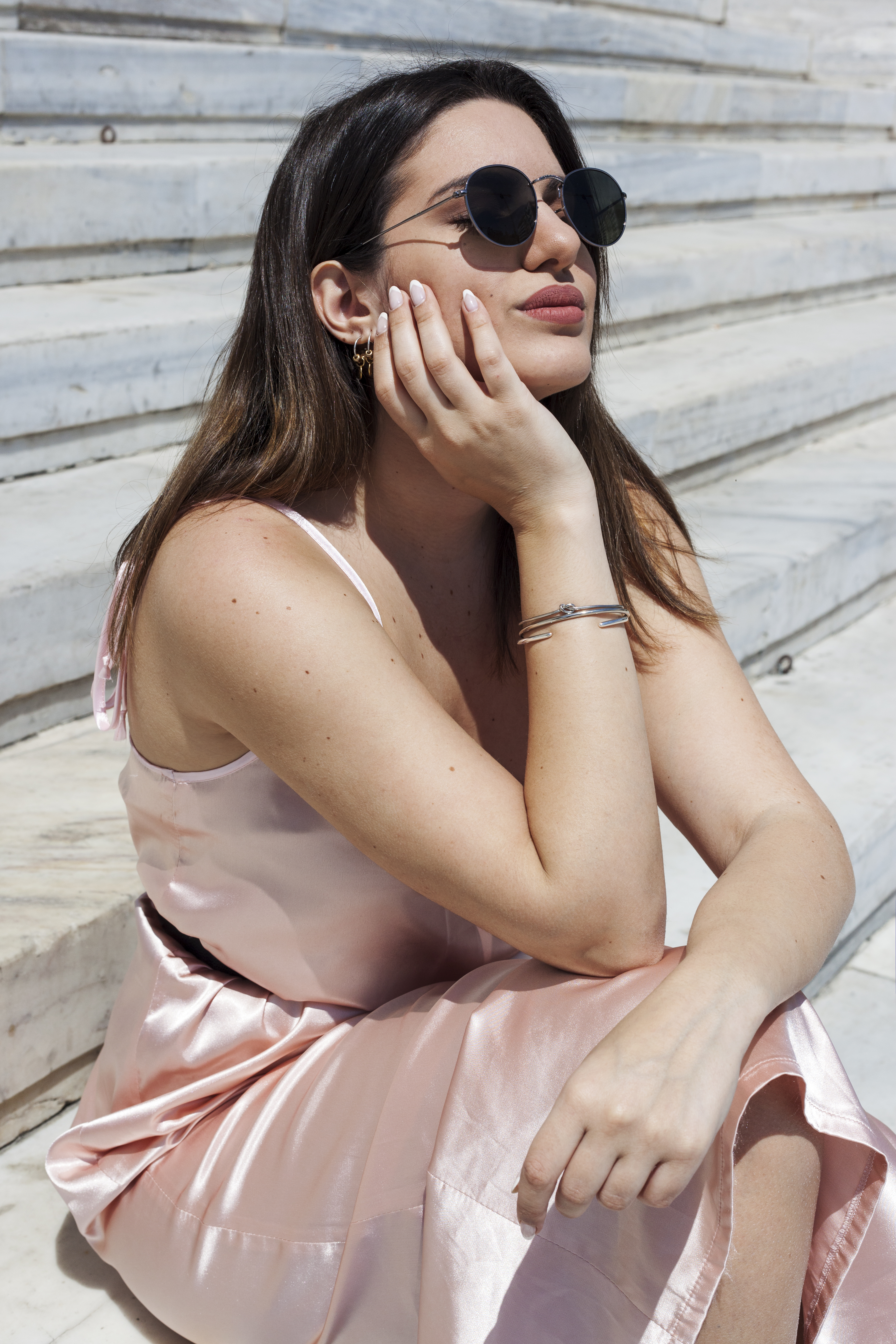 Hey there!
During summer satin has a leading role! It is wonderful in soft colors like pink and white but also in dark such as black and blue! Most of girls do not dare to wear it because they think that it looks like nightwear ! For me, satin is an airy and very comfortable cloth that offers a fresh look and shows the simplest piece as a very expensive and luxurious garment.
Today I choose a satin pink long dress from my favorite Angry Sally brand .
It is perfect for city looks combined with a black belt and a pair of black sleepers , but also for an island with sandals and a delicate cloth or rope belt. Will you dare it? Find it now in Angry Sally.
Hope you like it! See you soon!
Photographer: Eleni Pavlidis
Ellwears
Dress: Angry Sally
Glasses: YOLO
Belt: GUCCI