A new website and a new beauty post! So excited about my first post! Fashion will always be my first love..but we all
have to care our face and make it as beautiful as we can! That' s why I create a new beauty category on my new
webpage! We start with a natural makeup by my lovely friend PEGGY KIRKOU in her beauty center REMAKE ME.
EYES
Step 1: Starting with the base. There is not any color as natural as brown! It' s also one of my favorite shades cause it  fits great with my eyes. I choose BEAUTY IS LIFE  N15w .Peggy takes a light brown shade from the palette and swipes it all over the eye-lid to create the perfect base.
Step 2: Taking the black color of the palette and spreading it at the top of the eyelids by making a line just like the one we do with the eyeliner. The shade is Dior N176
Step 3: Time for Mascara. I choose the Helena Rubinstein extravaganza . Make sure to put on several coats (top and bottom lashes) as this step will tie the entire eye look together.
EYEBROWS
Step 4: For the eyebrows, Peggy uses brown shade by Dior.
FACE
Step 5: My favorite part! Peggy is  the only aesthetician in Greece who uses this great method on  makeup. For the most natural and matte result she is not using simple make-up, but airbrush. She pours the makeup on the aerography and then spreads it on the face with air.
Step 6: She puts powder by MaxFactor N05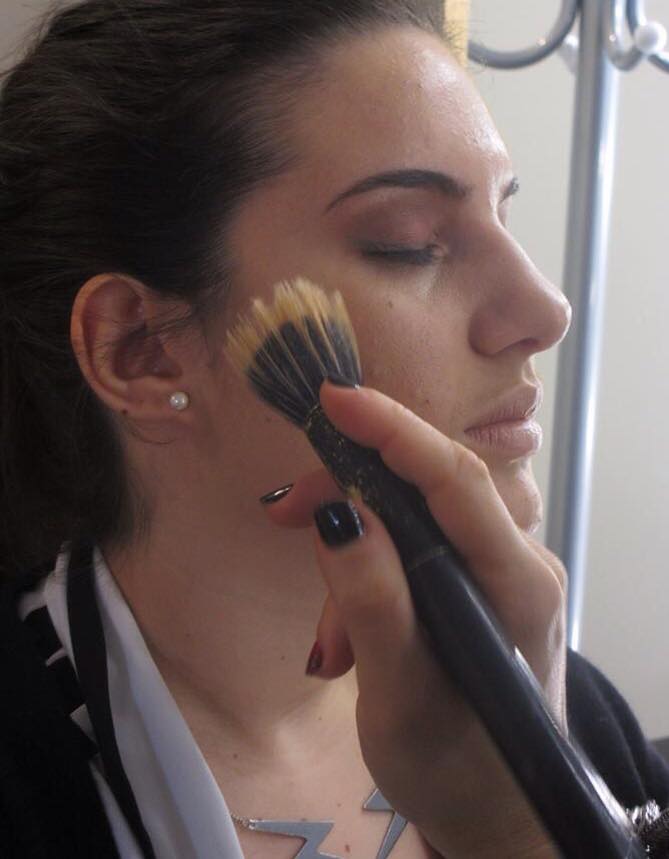 Step 7: Peggy taked a rouge by Beauty Is Life N04, and daps it on my cheeks.
Step 8: To finish off the face, she uses highlighter on the top of my cheekbones and the tip of my nose. This will give a stunning look when the light or sun hits your face. The highlighter is by The Balm.
LIPS
Step 9: I have two options about the lips. In the first one I choose a natural pink lipstick by MAC cosmetics. This is the best choice for a daily look.We can Keep the same makeup  till the night, just by using the second option. For this, I choose a dark burgundy lipstick by MAC cosmetics.
Step 10: Et Voila, I am ready! Thank you Peggy Kirkou & Remake Me!